Industrial Steel Structure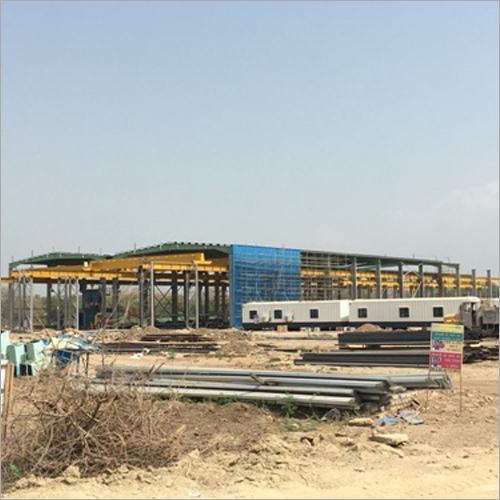 Industrial Steel Structure
Price And Quantity
Kilograms/Kilograms

62.00 - 65.00 INR
Product Specifications
Customized Millimeter (mm)

Galvanised,Color Coated
Product Description
A building or structure that is expressly intended for industrial use and that is made primarily of steel is known as an industrial steel structure. For a variety of industrial applications, these structures provide strength, toughness, and flexibility. Industrial steel buildings are renowned for their capacity to support huge weights, lofty ceilings, and wide clear spans. They are frequently used in factories, distribution centres, processing plants, warehouses, and industrial workshops. These constructions have high resistance to fire, corrosion, and pests because to the usage of steel. Industrial steel structures provide quick construction times, flexibility in customisation, and long-term cost savings. They are made to conform to regional building codes and safety regulations as well as unique industrial requirements.
FAQ:
Q. What is an industrial steel structure?
Ans: An industrial steel structure is a building or framework constructed primarily using steel components, such as beams, columns, and trusses. These structures are designed to provide robust support and durability, making them suitable for various industrial applications, including factories, warehouses, power plants, and more.
Q. What are the advantages of using steel in industrial construction?
Ans: Steel offers several advantages in industrial construction, including high strength-to-weight ratio, versatility, durability, and resistance to fire, pests, and natural elements. It allows for quick and efficient construction, reducing project timelines and costs.
Q. How are industrial steel structures designed?
Ans: Designing industrial steel structures involves a combination of engineering principles, architectural considerations, and adherence to local building codes. Professional structural engineers and architects use advanced computer software and modeling tools to create safe and efficient designs.
Q. Are industrial steel structures environmentally friendly?
Ans: Steel is considered an environmentally friendly building material due to its recyclability. Most modern steel structures are made from recycled steel, reducing the demand for new raw materials and minimizing the environmental impact.
Q. Can industrial steel structures be customized?
Ans: Yes, industrial steel structures can be highly customizable to meet specific requirements. Builders can modify the design, size, layout, and other features to suit the intended purpose of the structure.
Q. How long does it take to construct an industrial steel building?
Ans: The construction time for an industrial steel structure varies based on its size, complexity, and the efficiency of the construction team. Generally, steel structures are quicker to erect compared to traditional construction methods, potentially saving several weeks or months.
Q. Are industrial steel structures cost-effective?
Ans: Yes, industrial steel structures can be cost-effective in the long run due to their durability and low maintenance requirements. Additionally, the reduced construction time can also lead to cost savings.
Q. How do I maintain an industrial steel structure?
Ans: Steel structures require minimal maintenance. Regular inspections for corrosion or damage, along with simple cleaning and repainting as needed, can help prolong the lifespan of the building.
Q. Are industrial steel structures safe during earthquakes and other natural disasters?
Ans: When designed and constructed correctly, steel structures can be engineered to withstand earthquakes, hurricanes, and other natural disasters better than traditional construction materials.
Q. What permits are required to build an industrial steel structure?
Ans: Permit requirements vary depending on the location and local building codes. Typically, you'll need to obtain permits for construction, zoning, and sometimes environmental considerations before building an industrial steel structure.